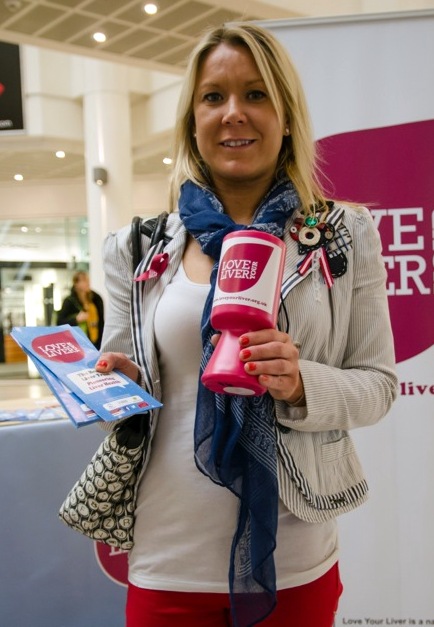 Sharon, at a recent "Love Your Liver" Roadshow.
This is Sharon's story; one of our valued committee members. In her story Sharon deals with the difference her second transplant has made to her life –
It all started just after I took part in the British Transplant Games in August 2016.  I noticed on my return I didn't feel as motivated as I normally would to go the gym. I was also feeling nauseous after eating and the whites of my eyes appeared slightly discoloured.  I had previously had a liver transplant in 1997 and these were the symptoms I dreaded.
I went to see my GP who strongly advised me to go to the RVH and seek medical advice from the liver team.  I remember Dr Cash asking me whether I had any plans for the coming week and I explained that I was meant to be taking part in a 10km run and then heading to Spain to present at a work conference.  He simply shook his head and said "No…go home and pack a bag, and come back.  We'll need to do a few tests."  This was on my birthday.  I packed a few things thinking I'd be back home in a few days but that didn't happen.  Instead, I would remain as an inpatient for the next six months.
It quickly became clear that things were a lot more serious than I first envisaged. My health was deteriorating rapidly and I needed a second transplant.  Within a few weeks I was over in Kings for pre-transplant assessment.  At that stage I was still able to walk to the 24/7 shop just outside the hospital entrance.  As each day passed though, I could feel my body getting weaker.  I was put on the transplant list and flown back to the Royal.  Soon after, my kidneys started to really struggle. I gained a lot of fluid and was no longer able to leave my side room.
My previous transplant experience had led me to study psychology and eventually conduct my PhD research on the determinants of psychological wellbeing in liver patients.  That knowledge, coupled with my own personal experience, enabled me to recognise the importance of remaining optimistic and of mental preparation.  I spent my time during those days in that side room planning on what I would like to do after my surgery. I had to believe that a suitable organ would be found in time.
Four weeks later I was back over in Kings in urgent need of a transplant.  It was all very different this time.  There were certainly no attempts to walk to the shop. Just a few days later, on 16th November, I was told a suitable organ had been found.   I will never forget the feeling of elation that flowed through me – this was my chance to stay alive. The surgery went ahead that afternoon and I seemed to be recovering well.   I managed to progress from ICU, Surgical Step-Down Unit to Todd Ward within a few days.   Unfortunately, though, I soon suffered a series of setbacks and was back in ICU.  The following few weeks were extremely tough for me, both psychologically and physically.  It felt like a real-life game of Snakes and Ladders.  Every time, I made some progress, I suffered another setback.
Then came Christmas Eve and after the experts at Kings made a last-minute decision that I could return to Belfast, I started to pack my belongings, only to then be told that the Air Ambulance was not going to take me due to Storm Barbara.  The prospect of having to spend the next few days over Christmas away from my loved ones was too much.  With the permission of the Kings team, my friend and I managed to book the last two remaining seats on a commercial flight from Heathrow to Belfast.  I remember that journey vividly. I was still carrying a lot of fluid and so my boots wouldn't zip up over my feet properly whilst I tried to make my escape from Kings but I was determined I was going to board the plane.
Upon my return to Belfast, I remained an inpatient in the Royal for a further three months battling infection.  I eventually won my battle and was discharged at the end of March 2017.  Only a few weeks after this, I felt well enough to return to work and also to take on the role of Chair of the RVH Liver Support Group.
It's almost four years now since my second transplant and I was able to return last year to compete in the British Transplant Games where I won four medals and had the honour of giving these to my donor's family.
None of this would have been possible without the selfless act of my donor signing the Organ Donor Register ("MORE INFO" ) and sharing her wishes with her husband. Please, if you haven't already done so, consider registering your interest in donating today and have the conversation. Your decision could save lives.