The 2K Family Walk
Every year Gareth Hunter's in-laws, the Walsh family, do a sponsored walk for charity.
 This year they were joined by Gareth's father and sister.  A total of 25 brave souls walked for 4 hours, approx 14 miles, in the Cooley Mountains.  At 77 years of age, Gareth's father Bob led from the front for most of the way – until he took a wrong turn, and found himself 2 miles off route ! 
£ 2,000 was raised for the work of the RVH Liver Support Group. 
The cheque was handed over on the morning of 20th May, at the Love Your Liver Campaign in Castlecourt, to LSG chair Donald Cairnduff.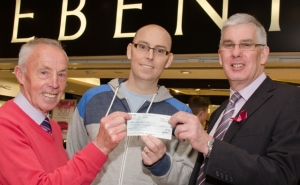 Huge thanks go to everyone involved for the strenuous fundraising and the strenuous hiking that went into gathering this magnificent total.
The photo on the left shows the cheque handover. From left is Bob, Gareth and Donald receiving the cheque on behalf of the RVH Liver Support Group.
Michael and Joyce Britt have been long standing supporters of our group and the picture on the left shows our treasurer Tom McCready reciving a cheque from Joyce at the AGM
[/fusion_builder_column][/fusion_builder_row][/fusion_builder_container]