We reached another landmark for the RVH Liver Support Group on 15 September 2017 when Kat Duffy officially opened the new Relatives' Room in what was known as the Glasshouse in 6D. We part funded this project and are very proud to be associated with it. This is our next project to help those with liver disease and their carers since the provision of the very successful Helpdesk and information monitors.
A few photos from the official opening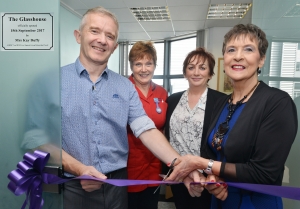 Kay Duffy cuts the ribbon at the official opening as Dr McDougall, Sr Sharon Moffett and Angela Costello look on.