Larmour family presentation
On Wednesday 14th January, Violet Larmour and her friends Sharon Frazer and Councillor Frank McCoubrey handed over a cheque for £1,700 to Kay Duffy, founder to the RVH Liver Support Group.
The money had been raised from a new year's ballot organised by John and Violet Larmour and their  family, with help from friends – not least Walter Graham who has worked steadily to raise funds for the group over the past three years.
Our sincere thanks to everyone involved.  And best wishes to Violet for continuing good health following her recent transplant.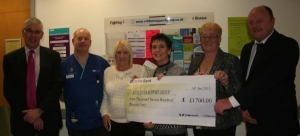 The photo shows, from left to right – Donald Cairnduff (Chair RVHLSG), Fred (Staff member of 6D), Violet Larmour, Kay Duffy, Sharon Frazer and Councillor Frank McCoubrey.