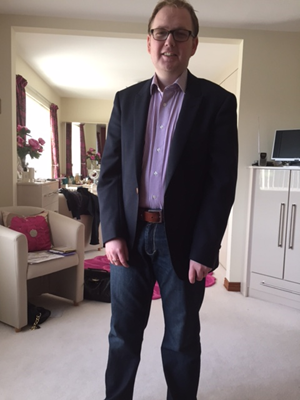 Daniel at home –  ready for anything on the menu 
I was born with a rare condition called Classic Maple Syrup Urine Disease. This illness restricted me to low protein foods and drinks – a diet made up of fruit and vegetables. I was often sick and needed lots of blood tests, nasogastric feeds and hospital admissions. This all made me lethargic and weak, spending lots of time playing video games and watching sport on television.
Maple syrup is very dangerous if not properly controlled. The body breaks down its own protein and increases levels of a toxin called leucine. The symptoms are vomiting, headaches, an unsteady gait and brain irritation.
We first heard about a liver transplant as a possible treatment for MSUD from a newsletter published by a MSUD support group in America. In my late teens my condition was more difficult to control and I had a few very bad episodes in hospital. There was talk of a liver transplant but we needed to be sure that the benefits would outweigh the risks.
On 10th June 2014 I had an appointment with the metabolic consultant Dr. Clodagh Loughery to assess my condition. The leucine levels had become very volatile and my quality of life was poor. As Clodagh was reading out recent blood results she noticed that my weight had dropped significantly.
She went on to ask if I had ever thought of the possibility of a liver transplant as my condition was very difficult to manage and wasn't getting any better. At first I was stunned. Was a transplant a possibility? Would it cure my condition? What was the recovery time? We discussed the procedure and possible side effects, with Clodagh explaining to me that one of her patients who had received a transplant in Bristol was now living a healthy life. It was remarkable to hear the possible outcomes; I would be able to play golf and football, go running, finish with low protein foods and eat normally.
After talking for over an hour, I drove home to report all I had discussed with my mother Gloria. To this day I don't know how I made it home. My mind was on the endless possibilities following the operation: I could travel to see my beloved Manchester United win football matches; I could have  relaxing holidays in the sun with my family, never worrying about what food I could eat or enduring  tiny portions and endless fluids every day. It would give my family comfort knowing that I could do the same things as everyone else.
When I got home and started to explain things to my mum, she knew something was wrong. When I told her about the possibility of having good health and being able to eat normally after a liver transplant, she was in shock, crying teats of sadness and  joy. She asked me what I thought. At first I said I needed a few weeks to come to terms with all the information but as the weeks progressed it became clear that it would be great to have a healthy life and eat a variety of foods. My mum had been reading up on liver transplants and how patients in Pennsylvania were  recovering after transplants.
The weeks and months went by and we got more information about what to expect. We then had a conference call with  Dr. Mazaregos in Pittsburgh Children's Hospital who explained about the transplant and how long the liver may last and the dangers of having the procedure. It was important for the rest of my family to hear what a doctor with experience of other children with MSUD had to say. The success rate was 97%. The call lasted 1 hour and 30 minutes and at the end of it I was reassured that there was no reason why a young, fit, healthy guy should not have a normal life.
The next couple of days were tense, trying to come to terms with all the information but in my mind I knew it was the best thing for me in terms of all the possible foods I could eat – steak, chicken, chocolate – and the opportunity to go to the gym and build up my fitness and strength.
In July 2014 we received a letter from Kings College Hospital in London to say they would like to see me for assessment. Mum and I flew to London the following weekend to see the consultants and the surgeons. Our four days there were intense to say the least, with numerous blood tests and examinations. However, the results were positive, indicating that I was fit for a transplant. My name was put on the list. I came home excited and anxious, waiting for the call that would tell me a liver was available.
The new year 2015 should have been very exciting one for many reasons.  I had bought a new Golf 1.6 and was due to collect it on 27th January. However, with me becoming weaker, having very little food and being up and down to the RVH for bloods every day, I wasn't really looking forward to the new car arriving. But on Thursday 28th January my granddad Jack and I went to collect the car. When we got there I thought, 'Wow, it looks class, all polished and looking the part.' I drove it home and parked it in the garage, not knowing what was to come.
On 30th January, Jack, Gloria and I were heading to Belfast with bloods, me looking really unwell.  I became sick and began to vomit as we headed home, so we turned straight back. After lots of fluids and routine blood checks, it became clear that my condition was worsening, so they transferred me to intensive care, where there were no immediate signs of improvement. There was some slight improvement as days and weeks progressed, so they transferred me to HDU where I was monitored round the clock for continued treatment. After six weeks the consultants' conclusion was that it would be best to transfer me to Kings College in London where I could be monitored more closely. Once I became stronger and able to eat properly, I would be ready for a transplant.
I was transferred to Howard Ward in the first week in March. The staff  were very pleasant, helpful and friendly. Once on the ward we spent two and a half weeks getting to know the staff and consultants, who got to know more and more about my condition. Dr Suddle was in charge of the welfare of liver patients and he did his rounds on Tuesday mornings, hearing how each patient felt that day and giving them an update on their progress. Regarding the transplant there was no news as yet.
Before my operation I had a chance to visit St. Thomas's Hospital, which was a great experience. My consultant was Dr. Ramachandran, a lovely person who was very helpful and chatted to me about MSUD and how it led to me needing a transplant. The metabolic team explained the need for bloods to be monitored before the transplant and demonstrated how they were to be done at 4.30  every morning for the lab to analyse them at 7.30. For me this was a challenge because so far I had never done this without Mum.
On 26th March I was up at 4.30  doing my bloods because they had to be in the lab at 6. I went to reception to drop off the sample. I then went back to bed but was told to get ready because there was a donor liver available. I was stunned, nervous and excited. It happened so fast. They dressed me down in the shower and rinsed me through so that I would be ready for theatre in 45 minutes. I left the ward at 5.30. As the consultant and the team were wheeling me down the corridor, I turned to mum and said, 'This is why we are here.'
I went into theatre at 7 a.m. and the operation lasted between 4 and 5 hours. I was out by midday, spent the afternoon recovering and in the evening sat up in bed talking to my mum and looking forward to the rest of my life of excitement and endless selections of food. I was in lots of pain but the medication helped to ease it and as the days went by I became gradually stronger and my appetite was returning. I was instructed to exercise as soon as I had the drips out. I began by walking round the room to see if I could manage the pain. After a few days I was walking up and down the corridor, slightly further each day. The physiotherapist was a great help in getting me back on my feet.He showed me a few easy exercises to start with and we built it up from there.
I was in Kings College for 2 weeks after the operation, getting stronger each day.  The support back home was incredible, with everyone praying and asking my family, 'How is Daniel?' When is he due home?' At this point I couldn't wait to get home. It had been a long road but worth it in the end. On 8th April the ambulance service escorted mum and me to an airfield where there was a private plane waiting to take us back to Belfast. Back in the RVH I was taken to the liver ward for treatment, where they assessed my condition, did routine blood tests and adjusted my medication according to the results. It wasn't long before my 26th birthday. My family decided to take me out for a lovely meal and to allow me to explore the choice on the menu. There was plenty to choose from but it was a no-brainer; I ordered an 8 oz. sirloin steak with pepper sauce and champ. It tasted delicious. The flavour of the sirloin was incredible.
Life after the operation has been incredible for my family and me. We travelled to America for 3 weeks in the summer with friends and there were no signs of complications. My health was very good and I did plenty of exercise and routine sightseeing. The next adventure I went on was to watch the British Open. It was an amazing experience. I was able to walk round Royal Troon golf course with no discomfort, pain or lack of breath. Watching my favourite golfers in action was something I could truly savour. The most pleasing aspect was that my energy levels were high after a long day. During that week at Troon I learnt a lot about my condition and what i was able to do and not do. Since my operation, I've had routine check-ups every 3 months to monitor my tacrolimus levels and to check for signs of rejection.
In the last two years I have noticed an improvement in my stamina. I can do much more exercise than I could previously.  Looking back on the journey there have been highs, lows and some depressing periods but I would go through it again because it has changed my life for the better.  I would like to thank the Kings and RVH teams of medics and consultants for the continuing support.  I feel very privileged that they have given me the opportunity to enjoy all the challenges that the future holds.