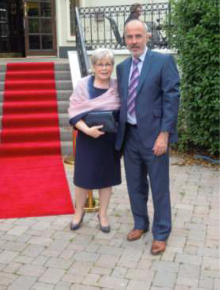 Norman Lyons of Fivemiletown was diagnosed with an auto-immune disease many years ago and suspected that it would come back to haunt him. Which it did. On 6th December 2006 he was told by liver consultants at the Mater Hospital that he had a malignant tumour. A fortnight later 60% of his liver was removed and the tumour came away cleanly. With the remaining 40% struggling to cope, liver failure set in but Norman was not considered for transplant assessment until it was clear that the cancer wasn't returning. He eventually received a successful liver transplant a few months after his 40th wedding anniversary.
Before his transplant Norman was on the waiting list for three years, during which time his health slowly deteriorated. He tried to persuade himself that he was in reasonable health but photographs taken at the time and the fact that his wife Myrtle was putting on his plate what you would give 2 year old child told a very different story.
After his transplant, Norman sees his new life as a reprieve and he intends to value every second of it. He enjoys meeting and sharing experiences with other transplant recipients – we all speak the same language.  He is a very active grandfather to his five grandchildren, accompanying them on walks and participating in their games.  A long term member and past captain of Clogher Valley Golf Club, he and his golf partner recently won a doubles tournament at the club.  Recently working on a building project he laughed to think that he was loving every minute of it having been at death's door not long before.  He has also become a local source of inspiration to people coping with adversity; the phrase Look at what Norman Lyons came through is heard regularly within his community.
He says: We are humbled that a complete stranger donated a liver so that someone could live as they passed away. There's never a day goes by that I don't talk to my donor. We do things together.
Please join the organ donor register, tell your family and friends you have done so and offer the gift of life to someone like Norman.
It is a gift that will be cherished.