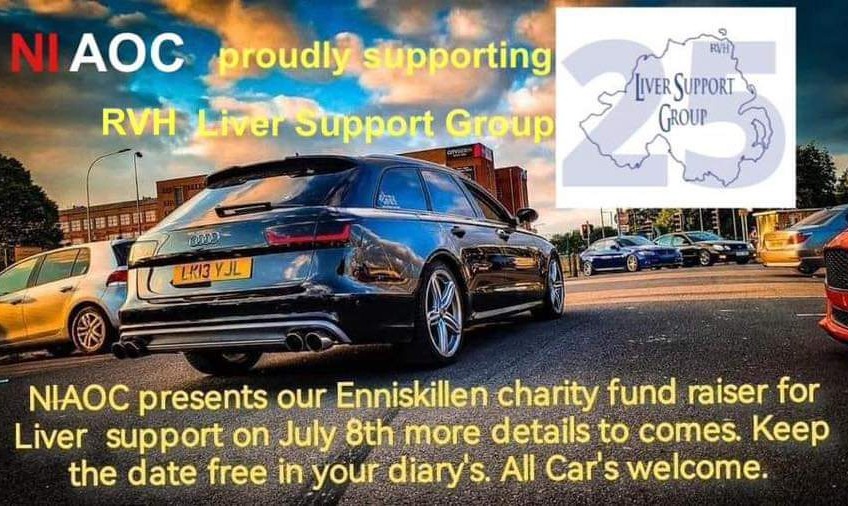 Arthur is the vice chairman of the RVH Liver Support Group, an avid Audi petrolhead and an active member of the NIAOC. Recently, he was honoured to be involved with the putting together of the NI Audi Owners Club yearly big run which is going to Enniskillen this year. The Club was founded by Marc and Nicky Edgar several years ago and they are among its many admins. And this is because it now has over 1400 members throughout NI who are very active helping one another on their FB page.
This years big Audi run will be taking place on this incoming Saturday, July 8th starting off from Sprucefield car park at around 08:30 hrs and heading to Edfield cafe in Fivemiletown for breakfast after which the convoy will drive to Castlecoole, a National Trust property in  Enniskillen, Co Fermanagh and will remain there for several hours. Later in the day the convoy will then head to the beautiful Navar viewpoint where one can see the Belleek shore road, the River Erne and indeed Bundoran and the Atlantic Ocean!!
The year NIAOC offered to help raise awareness of  our charity by including us on their event. A big shout out goes to Nicky, Marc and Andy for putting so much effort into the organising of the Audi run and the raffle on the day. And the RVH Liver Support Group would like to thank them most sincerely for taking the time out to make this run a great success. We are all aware of how time consuming it is to organise and set up events such as this.
If you happen to be in Enniskillen on July 8th please feel free to call in to see the cars at Castlecoole between 12:30 pm and 3:00 pm.
A Just Giving page has also been set up for any Audi members who cannot to attend but  may wish to contribute to the Liver Support Group. The link to the page is below and there is a little story there detailing what the charity does for the community.